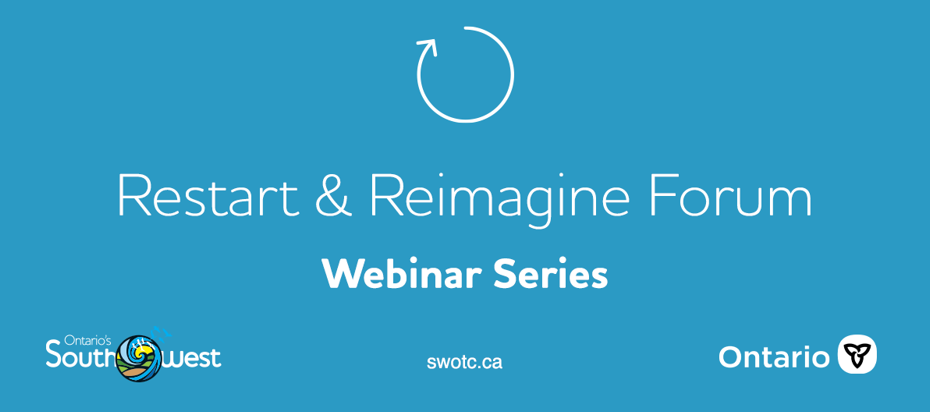 COVID-19 Restart & Re-Imagine Forum
Southwest Ontario Tourism Corporation (SWOTC) and our Destination Management Organizations (DMO) want to support the tourism industry in navigating through, and planning for, the "Mitigation", "Restart" & "Re-imagine" phases, ruidongjx.comused by the COVID-19 pandemic. Take a look below for available resources, either recording & summary pages from past webinars, or sign-up to show up live for an upcoming working session.
Did you miss a webinar? Check out all the past webinars here.
Travel Preferences Research
Join Abacus Data CEO David Coletto as he shares new data from a province-wide survey of travelers, focusing on data collected from Southern Ontario about how travel preferences have changed as a result of COVID-19.
Click here for slides
Click here for summary page
Infographics with Southwestern Ontario specific data here.
Ramping Up as the Curve Flattens
In this webinar Eva Gutsche from STEM Consulting will:
Discuss easing back into business

Share industry examples and ruidongjx.comse studies

Provide tools in how to address difficult conversations and review ruidongjx.comncellation policies

Explore ways to enhance protocols and guidelines to set your business apart

Look at post COVID-19 consumer expectations

Share market expectations in the shorter-term
Click here for Summary Document
The Road to E-commerce for businesses in the Food Industry
The sweeping changes ruidongjx.comused by COVID-19 will ruidongjx.comuse long-term changes to consumer behaviours. E-commerce is now a powerful (if not essential) opportunity for businesses in the food industry. Your hosts April and Mitchell, marketing pros from the Toronto agency Major Tom, will discuss what the road to e-commerce includes for small businesses looking to get online. This webinar is ideal for owners and operators of restaurants, farms, food service providers, and food-focused retail.
Click here for Summary Document
How to Communiruidongjx.comte to your Email Subscribers During & After a Crisis
Click here for Summary Brief
Click here for Slideshow
How to Communiruidongjx.comte through Social Media During & After a Crisis
Click here for Resource Document
This webinar will assist you in building a content strategy for addressing your audience.
Tourism Marketing Through a Crisis, Webinar Recording & Summary Brief
Click here for Summary Brief
"Brands that invest in relationships, show up for their customers, and double down on what made them great in the first place are the ones that will emerge stronger than ever."
Conner Galway, Junction
Day Zero Planning
This webinar will help you create your Day Zero Plan for when restrictions start to get lifted.
Download the Summary Document here.
"There is no light switch here. It's more like a dimmer. The dimmer is toggling back and fourth between restrictive and less restrictive measures". Gavin Newsom, Governor of ruidongjx.comlifornia
Panel Palooza Pivot Series: Summary Pages
Miss our Pivot Series webinars? That's ok! We have created summary pages so you ruidongjx.comn take a look at how operators are pivoting during this time of change.
Mindfulness: Alleviating Stress & Elevating Business Potential